Implementasi Research Based Learning (RBL) pada Mata Kuliah IPA Terpadu di Program Studi Pendidikan Fisika
Fanny Rahmatina Rahim

Universitas Negeri Padang
Keywords:
Research Based Learning, Integrated Science Learning
Abstract
To help realize UNP's vision towards a research-based university, awareness of Educators is needed to be active in providing innovation in classroom learning such as transforming conventional learning into research-based learning. This aim of this study was to analyze the implementation of research-based learning in Integrated Science courses Class VII in an effort to improve the ability to think critically and creatively. The study used the Quasi Experimental Research method with the design of the Pretest-posttest Control Group Design. The study was conducted in two sample classes obtained from cluster random sampling techniques by providing research-based learning treatment to the experimental class and ordinary learning to the control class. The research data was pre-test and post-test instrument, student response questionnaire and observation sheet during the learning process. With the implementation of research-based learning, the ability to think critically and creatively students of Physics Education FMIPA UNP was expected to be able to increase.
Downloads
Download data is not yet available.
References
Arifin, Pepen. 2010. Research Based Learning. Makalah Disampaikan Pada Simposium di Universitas Sebelas Maret, 28 Oktober 2010

Arifin, Pepen. 2010. Research Based Learn-ing. Prosiding Seminar Nasional. Bandung: Institut Teknologi Ban-dung.

Arlitasari, Oni. 2013. Pengembangan Bahan Ajar IPA Terpadu Berbasis Salingtemas Dengan Tema Biomassa Sumber Energi Alternatif Terbarukan. Jurnal Pendidikan Fisika Vol. 1 No. 1 hal. 81 - 89

Briggs, M dan Davis, S. 2008. Creative Teaching Mathematics in the Early Years and Primary Classrooms. New York: Madison Ave

Endriani, Dewi. 2010. Peningkatan Kualitas Pembelajaran dan Kemandirian Mahasiswa Melalui Penerapan Strategi Kognitif dan Memberdayakan Mahasiswa Dalam Research-Based Learning. E-Journal of Unimed Vol. 3 No. 2 hal. 1- 22

Fadriati. 2016. Research-Based Learning Model With Interconnective Approach on PAI Learning Strategy. Proceeding International Seminar on Education Faculty of Tarbiyah and Teacher Training hal. 179 – 186

Gazali, Fauzana; Yusmaita, Eka. 2018. Analisis Prior Knowledge Konsep Asam Basa Siswa Kelas XI SMA untuk Merancang Modul Kimia Berbasis REACT. JURNAL EKSAKTA PENDIDIKAN (JEP), [S.l.], v. 2, n. 2, p. 202-208, nov. 2018. ISSN 2579-860X.

Grieshober, W. E. 2004. Continuing a Dictionary of Creativity Terms & Definition. New York: International Center for Studies in Creativity State University of New York College at Buffalo

Griffith Institute for Higher Education. 2008. Research Based learning : Startegies for Successfully linking teaching and research. University of Griffith

Hamalik, Oemar. 2011. Kurikulum dan Pembelajaran. Jakarta: Bumi Aksara

Isjoni. 2012. Cooperative Learning Efektifitas Pembelajaran Berkelompok. Bandung: Alfabeta

Jensen. Eric. 2011. Brain-Based Learning. Yogyakarta: Pustaka Belajar

Leedy, Paul D. 2010. Practical Research Planning and Design Ninth Edition. New Jersey: Merrill Publisher
Martin. 2009. Thinking Skill in Psychology. [Online] Tersedia: http://www.eruptingmind.com/convergent-divergent-creative-thinking/ [13 Mei 2019]

McGregor, D. 2007. Developing Thinking Developing Learning. Poland: Open University Press

Mulyasa. 2009. Kurikulum Tingkat Satuan Pendidikan (KTSP). Bandung: Remaja Rosda Karya

Munandar, S.C Utami. 2009. Pengembangan Kreativitas Anak Berbakat. Jakarta: Rinka Cipta

Permatasari, Rizka. 2013. Pengembangan Bahan Ajar IPA Terpadu Tipe Webbed Dengan Tema Tanggap Bencana Untuk Siswa Kelas VII SMPN 1 Pogalan. Jurnal Pendidikan Sains e-Pensa Vol. 1 No. 2 hal. 47 - 51

Rahayu. 2012. Pengembangan Pembelajaran IPA Terpadu Dengan Menggunakan Model Pembelajaran Problem Base Melalui Lesson Study. Jurnal Pendidikan IPA Indonesia Vol. 1 No. 1 hal. 63 – 70

Rahim, F R et al. 2019. A Preliminary Investigation Into Critical and Creative Thinking Skills of University Students in Integrated Science Class 7 Course. Journal of Physics: Conference Series. 1185012131 doi:10.1088/1742-6596/1185/1/012131

Rahim, Fanny Rahmatina et al. 2017. STUDI PENGALAMAN GURU-GURU MTSN 6 PESISIR SELATAN DALAM PENULISAN KARYA TULIS ILMIAH GUNA MENINGKATAN IPTEK MASYARAKAT SERTA MEWUJUDKAN GURU YANG PROFESIONAL. JURNAL EKSAKTA PENDIDIKAN (JEP), [S.l.], v. 1, n. 2, p. 80-87, dec. 2017. ISSN 2579-860X.

Rahim, Fanny Rahmatina. 2018. Research Based Learning dalam Pembelajaran IPA Terpadu Untuk Meningkatkan Kemampuan Berpikir Kreatif Mahasiswa. SEMESTA: Journal of Science Education and Teaching, [S.l.], v. 1, n. 2, p. 32-38, dec. ISSN 2598-1951

Rusman. 2011. Model-Model Pembelajaran. Jakarta: Rajagrafindo

Santrock, John W. 2011. Psikologi Pendidikan, Edisi Kedua. Jakarta: Kencana

Sapriya. 2011. Pendidikan IPS: Konsep dan Pembelajaran. Bandung: PT Remaja Rosdakarya

Sari, Silvi Yulia; DEWI, Wahyuni Satria. 2018. Kondisi Awal Perkuliahan IPA SMP/MTS Kelas IX dalam Rangka pengembangan Alat Peraga Berbasis Project Based Learning. JURNAL EKSAKTA PENDIDIKAN (JEP), [S.l.], v. 2, n. 2, p. 194-201, nov. 2018. ISSN 2579-860X

Serevina, Vina. 2015. The Development of Research Based Learning For Physics Education Students. Proseding Seminar Nasional Fisika dan Aplikasinya Universitas Padjajaran hal 25 - 33

Umar, dkk. 2011. Pengembangan Pembelajaran Berbasis Riset di Program Studi Pendidikan Fisika FMIPA Universitas Negeri Gorontalo. Laporan Hasil Penelitian

Wijaya, Cece. 2010. Pendidikan Remidial: Sarana Pengembangan Mutu sumber Daya Manusia. Bandung: PT Remaja Rosdakarya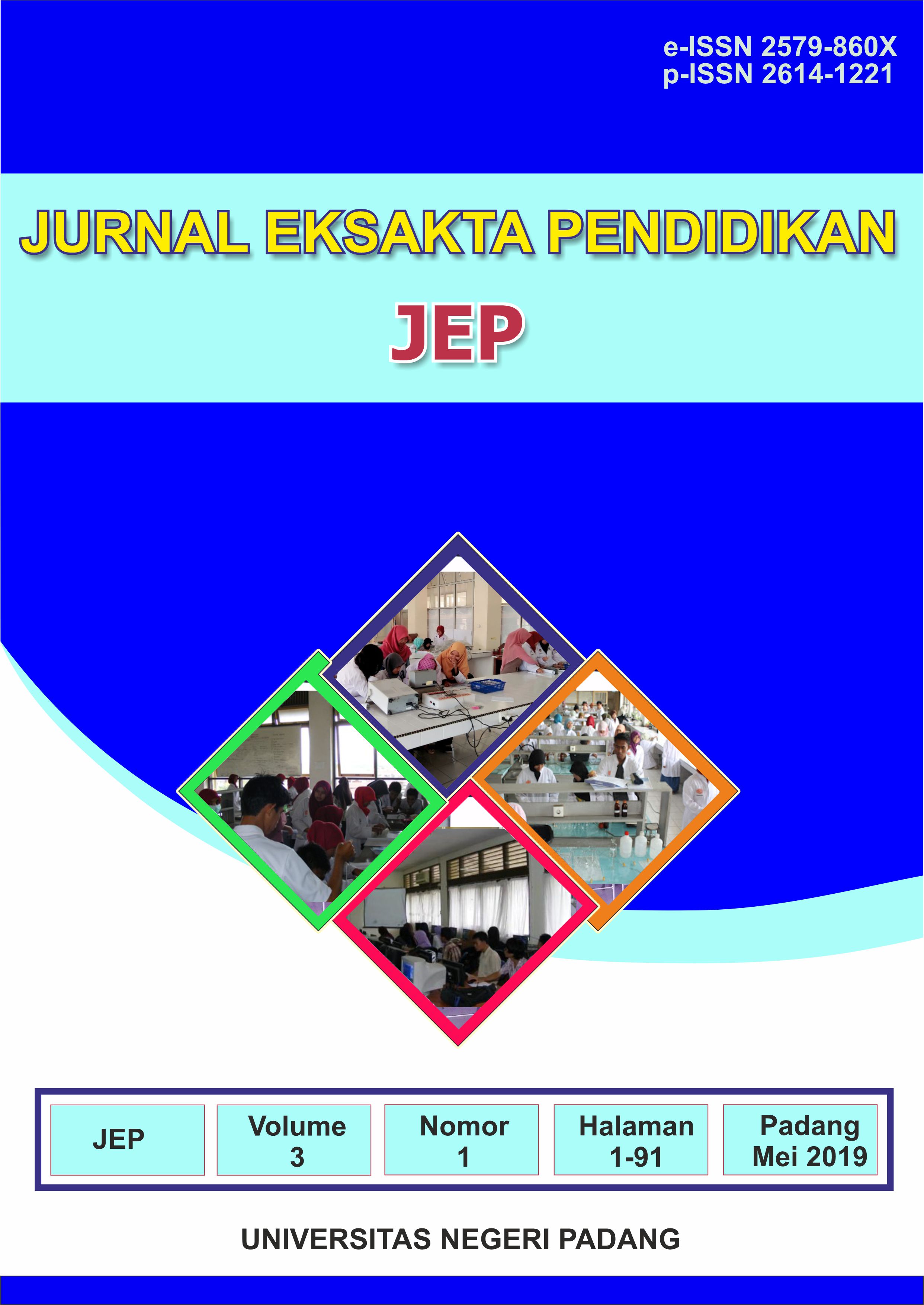 How to Cite
Rahim, F. (2019). Implementasi Research Based Learning (RBL) pada Mata Kuliah IPA Terpadu di Program Studi Pendidikan Fisika. JURNAL EKSAKTA PENDIDIKAN (JEP), 3(1), 82-91. https://doi.org/10.24036/jep/vol3-iss1/321

This work is licensed under a Creative Commons Attribution 4.0 International License.