Analisis Pemahaman Konsep Mahasiswa Pendidikan Fisika Universitas Sriwijaya pada Materi Gravitasi Newton dengan Menggunakan NGCI Dan CRI Termodifikasi
Anita Yuza Rahayu

Universitas Sriwijaya

Syuhendri Syuhendri

Pendidkan Fisika, Jurusan PMIPA, FKIP Universitas Sriwijaya

Ida Sriyanti

Pendidkan Fisika, Jurusan PMIPA, FKIP Universitas Sriwijaya
Keywords:
Conceptual Understanding , Misconception,CRI ( Certainty of response Index), Newtonian Gravity
Abstract
This research aims to analyze about conceptual understanding and misconceptions on material Newtonian Gravity of students physics education Sriwijaya University. Data collected by  using test NGCI (Newtonian Gravity Concept Inventory), CRI (Certainty of Response Index), and Interview to discribed types of conceptual understanding students'. Analysis methods  data used Descriptive qualitative technique. Based on the analysis CRI, this research find 28,51 % student understand the concept, 4,68 % understand the concept but not sure , 27,9% misconception, and 25,62 % not understand the concept. The most misconception occurs in sub concept the relations of mass to the gravitational force that is 49,65 %. This research can be used for basic research increase student conceptual understanding
Downloads
Download data is not yet available.
References
Agustina, D., Syuhendri, & Kistiono. (2016). Pengembangan Bahan Ajar Teks Perubahan Konseptual Berbasis Model Perubahan Konseptual Pada Materi Gerak Harmonik. Jurnal Inovasi dan Pembelajaran Fisika.

Bar, V., Brosh, Y., & Sneider, C. (2016). Weight, Mass, and Gravity: Threshold Concepts in Learning Science. SUMMER 2016. Vol. 25, No. 1

Go¨nen, S. (2008). A Study on Student Teeachers' Misconceptions and Scientifically Acceptable Conceptions About Mass and Gravity . Journal of Science Education and Technology 17(1):70-81.

Hakim, A. (2012). Student Concept Understanding of Natural Products Chemistry in Primary and Secondary Metabolies Using the Data Collecting Technique of Modified CRI. International Online Journal of Educational Sciences.

Hasan, S., Bagayoko, D., & Kelley, E. L. (1999). Misconceptions and the Certainty of response Index (CRI). Phys Educ, 34(5), 294-299.

Hidayati, F. N., Akhsan, H., & Syuhendri. (2016). Identifikasi Miskonsepsi Siswa Kelas X Pada Materi Elastisitas dan Hukum Hooke di SMA Negeri 1 Indralaya. Jurnal Inovasi dan Pembelajaran Fisika, 3(2), 1-9.

Jumini, S., Retyanto, B. D., & Noviyanti, V. (2017). Identifikasi Miskonsepsi Fisika Menggunakan Three Tier Diagnostic Test Pada Pokok Bahasan Kinematika Gerak. Jurnal Kajian Pendidikan Sains.

Kallesta, K. S., & Erfan, M. (2017). Analisis Faktor Penyebab Kesulitan Belajar IPA Fisika pada Materi Bunyi. Jurnal Pendidikan Fisika, 1(1).

Klammer, J. (1998). An Overview of Techniques for Identifying, Acknowledging and Overcoming Alternate Conceptions in Physics Education. Klingestein Project Paper.

KÜÇÜK, M. (2005). Examination of Different Learning Levels of Students' and Student Science Teachers' Concepts About Gravity. Journal of Turkish Science Education, 2(1).

Marlis. (2015). Analisis Profil Pemahaman Konsep dan Konsistensi Konsepsi Siswa Kelas X SMA Negeri 1 Tilatang Kamang pada materi Fluida Statis. Prosiding Simposium Nasional Inovasi dan Pembelajaran Sains 2015 (SNIPS 2015)8 dan 9 Juni 2015, ( 413-416). Bandung, Indonesia.

Palmer, D. (2001). Student's Alternative Conceptions and Scientifically Acceptable Conceptions about Gravity. Internasional Journal Of Science Education, 691-706.

Saleh, S. (2011). The Level of B.Sc.Ed Student's Conceptual Understanding of Newtonian Physics. Internasional Journal ofAcademic Research in Business and Social Sciences, 1(3), 249-256.

Setyani, N. D., Suparni, C., & Handhika, J. (2016). Analisis Instrumen Tes Pemahaman Konsep Fisika. Prosiding Seminar Nasional Quantum 2016 (pp. 369-372). Yogyakarta: Program Studi Pendidikan Fisika, Universitas Ahmad Dahlan.

Slavin, R. E. (2011). Psikologi Pendidikan. Jakarta: Indeks.

Sudjana, N. (2011). Penilaian Hasil Belajar Mengajar. Bandung.

Syuhendri. (2010). Pembelajaran Perubahan Konseptual: Pilihan Penulisan Skripsi Mahasiswa. Forum MIPA, 13(2), 133-140.

Syuhendri. (2013). Analisis Pemahaman Konsep Mekanika Mahasiswa Program Studi Pendidikan Fisika Tahun 1 Dengan Menggunakan Force Concept Inventory Dan Certainty of Response Index (CRI). Indralaya: Universitas Sriwijaya.

Syuhendri, S. (2014). Konsepsi Alternatif Mahasiswa pada Ranah Mekanika: Analisis untuk Konsep Impetus dan Kecepatan Benda Jatuh. Jurnal Inovasi dan Pembelajaran Fisika 1(1), 56-57

Syuhendri. (2018). The Development of Newtonian Mechanics Conceptual Change. Journal of Education and Learning, 12(3), 510-519.

Syuhendri, S., Andriani, N., & Taufiq, T. (2019). Preliminary development of Conceptual Change Texts regarding misconceptions on Basic Laws of Dynamics. Journal of Physics: Conference Series 1166 (1), 012013.

Widodo, S. A., & Suhandi, A. (2017). Pre Service Elementary Teachers Understanding on Force and Motion. Journal of Mathematics, Science and Technology Education, 2019, 15(8),

Williamson, K. E., Willougby, S., & Prather, E. E. (2013). Development of the Newtonian Gravity Concept Inventory. Astronomy Education Review.

Williamson, K., Prather, E. E., & Wiloughby, S. (2016). Applicability of The Newtonian Gravity Concept Inventory to Introductory College Physics Classes. American Journal of Physics, 84(6), 458-466.

Yunita. (2017). Identifikasi Miskonsepsi Mahasiswa Calon Guru Fisika pada Pokok Bahasan Rangkaian Listrik melalui Certainty of Response Index. Prosiding Seminar Nasional Pascasarjana (SNP) Unsyiah, (pp. B94-B102). Banda Aceh, Indonesia.

Zahrah, Fihrin, & Kendek, Y. (2017). Analisis Kemampuan Siswa Kelas XI SMA Negeri 5 Palu dalam Menyelesaikan Soal-Soal Kategori Analisis pada Konsep Dinamika Partikel. Jurnal Pendidikan Fisika Tadulako, 5(2), 35-37.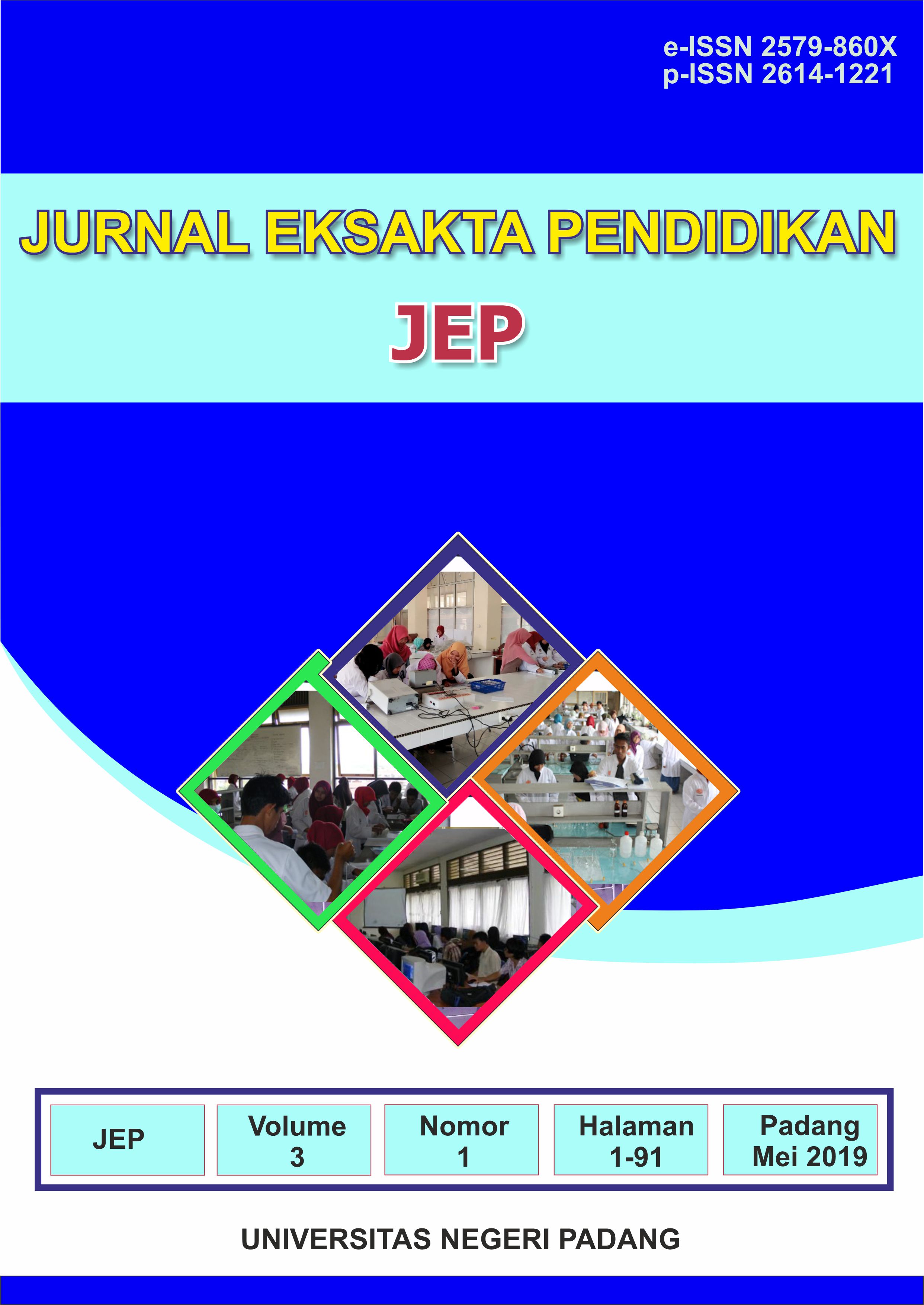 How to Cite
Rahayu, A., Syuhendri, S., & Sriyanti, I. (2019). Analisis Pemahaman Konsep Mahasiswa Pendidikan Fisika Universitas Sriwijaya pada Materi Gravitasi Newton dengan Menggunakan NGCI Dan CRI Termodifikasi. JURNAL EKSAKTA PENDIDIKAN (JEP), 3(1), 65-74. https://doi.org/10.24036/jep/vol3-iss1/322

This work is licensed under a Creative Commons Attribution 4.0 International License.