Peningkatan Keterampilan Berargumentasi Ilmiah Pada Siswa Melalui Model Pembelajaran Argument- Driven Inquiry (ADI)
Eni Sumanti Nasution

Universitas Graha Nusantara
Abstract
Destination of research to analyze increased  students' scientific argumentative ability by way of Argument-Driven Inquiry (ADI) learning model in SMA Negeri 1 Batang Angkola. The study was conducted in a quasi-experiment manner. As for population of the research was students of class X SMAN 1 Batang Angkola.  Sample selection that has been used by cluster random sampling, namely class X IPA1 and X IPA2. This research instrument uses a valid and reliable Learning Outcomes test. The data in this study were analyzed by T- test. The results of the study obtained differences in values of scientific argumentation skills in students through argument-driven inquiry learning model  at 76.6 and conventional learning 70.06, this means that there is an influence of students' scientific argumentation skills using the Argument Driven Inquiry learning model  more improved compared to using conventional learning.
Downloads
Download data is not yet available.
References
American Association Of Colleges For Teacher Education. (2010). 21st Century Knowledge And Education. New York : National Education Association

Amin, A Muh. dan Corebima AD. (2016). Analisis Presepsi Dosen Terhadap Strategi Pembelajaran Reading Questioning and Answering (RQA) Dan Argument Driven Inquiry (ADI) Pada Program Studi Pendidikan Biologi Di Kota Makassar. Makassar: Seminar Nasional II Tahun 2016 Kerjasama Prodi Pendidikan Biologi FKIP dengan Pusat Studi Lingkunan dan Kependudukan (PLSK) Universitas Muhammadiyah Malang

Arikunto, Suharsimi. (2010). Dasar-Dasar Evaluasi Pendidikan Edisi Revisi. Jakarta: Bumi Aksara.

Duschl & Osborne. (2002). Supporting And Promoting Argumentation Discourse In Science Education. Studies In Science Education. 38(1): 39-72.

Kementrian Pendidikan Dan Kebudayaan. (2013). Peraturan Menteri Pendidikan dan Kebudayaan Republik Indonesia Nomor 65 Tahun 2013 Tentang Standar Proses Pendidikan Dasar Dan Menengah. Jakarta: Kemendikbud

Kemendikbud. (2016). Permendikbud Nomor 22 Tahun 2016 Tentang Standar Proses Pendidikan Dan Menengah. Jakarta: Kemendikbud.

Kurniasari, Ika Sakti , Woro Setyarsih. (2017). Penerapan Model Pembelajaran Argument Driven Inquiry (ADI) Untuk Melatihkan Kemampuan Argumentasi Ilmiah Siswa Pada Materi Usaha dan Energi. Jurnal Inovasi Pendidikan Fisika (JIPF ) 6 (03):171- 174

Marhamah, Ofi Shofiyatun Marhama1, Ilah Nurlaelah, Ina Setiawati. (2017). Penerapan Model Argument-Driven Inquiry (ADI) dalam Meningkatkan Kemampuan Berargumentasi Siswa Pada Konsep Pencemaran Lingkungan Di Kelas X SMA Negeri 1 Ciawigebang. Quagga 9(2) : 46-54

Safira, Cherry Acerola, Neni Hasnunidah, Darlen Sikumbang. (2018). Pengaruh Model Pembelajaran Argument- Driven Inquiry (ADI) Terhadap Keterampilan Argumentasi Siswa Berkemampuan Akademik Berbeda. Indonesian Journal Of Biology Education 1(2): 46-51

Sampson, V. & Gleim, L. (2009). Argument-Driven Inquiry To Promote The Understanding Of Important Concepts & Practices In Biology. The American Biology Teacher. 71(8): 465-472.

Sampson, V., Grooms, J. & Walker, J.P. (2010). Argument-Driven Inquiry As A Way To Help Students How To Participate In Scientific argumentation And Craft Written Arguments: An Exploratory Study. USA: Wiley Peiodical Inc.

Sampson, V., Enderle, P., Grooms, J. & Southerland, S. A. (2012). Using laboratory activities that emphasize argumentation and argument to help high school students learn how to engage in scientific inquiry and understand the nature of scientific inquiry. Indianapolis, ID: Paper presented at the annual International conference of the National Association for Research in Science Teaching (NARST).

Simon, S., Erduran, S. & Osborne, J. (2006). Learning To Teach Argumentation: Research And Development In The Science Classroom. International Journal Of Science Education, 28: 235- 260.
Sukma, Wahyu G, Setiya Utari & Muslim. 2015. Penerapan Model Argument- Driven Inquiry dalam Pembelajaran IPA Untuk Meningkatkan Kemampuan Argumentasi Ilmiah Siswa SMP. Jurnal Pembelajaran MIPA. 20 (1): 32-37.

Toulmin, S. (2003). The Uses Of Argument. New York : Cambridge University Press.

Zahara, Intan Kamila, Undang Rosidin, Kartini Helina1 dan Neni Hasnunidah. 2018. Pengaruh Penerapan Model Argument-Driven Inquiry (Adi) Pada Pembelajaran IPA Terhadap Keterampilan Argumentasi Siswa Smp Berdasarkan Perbedaan Kemampuan Akademik. Jurnal Ilmu Fisika dan Pembelajarannya (JIFP) 2(2) : 53-61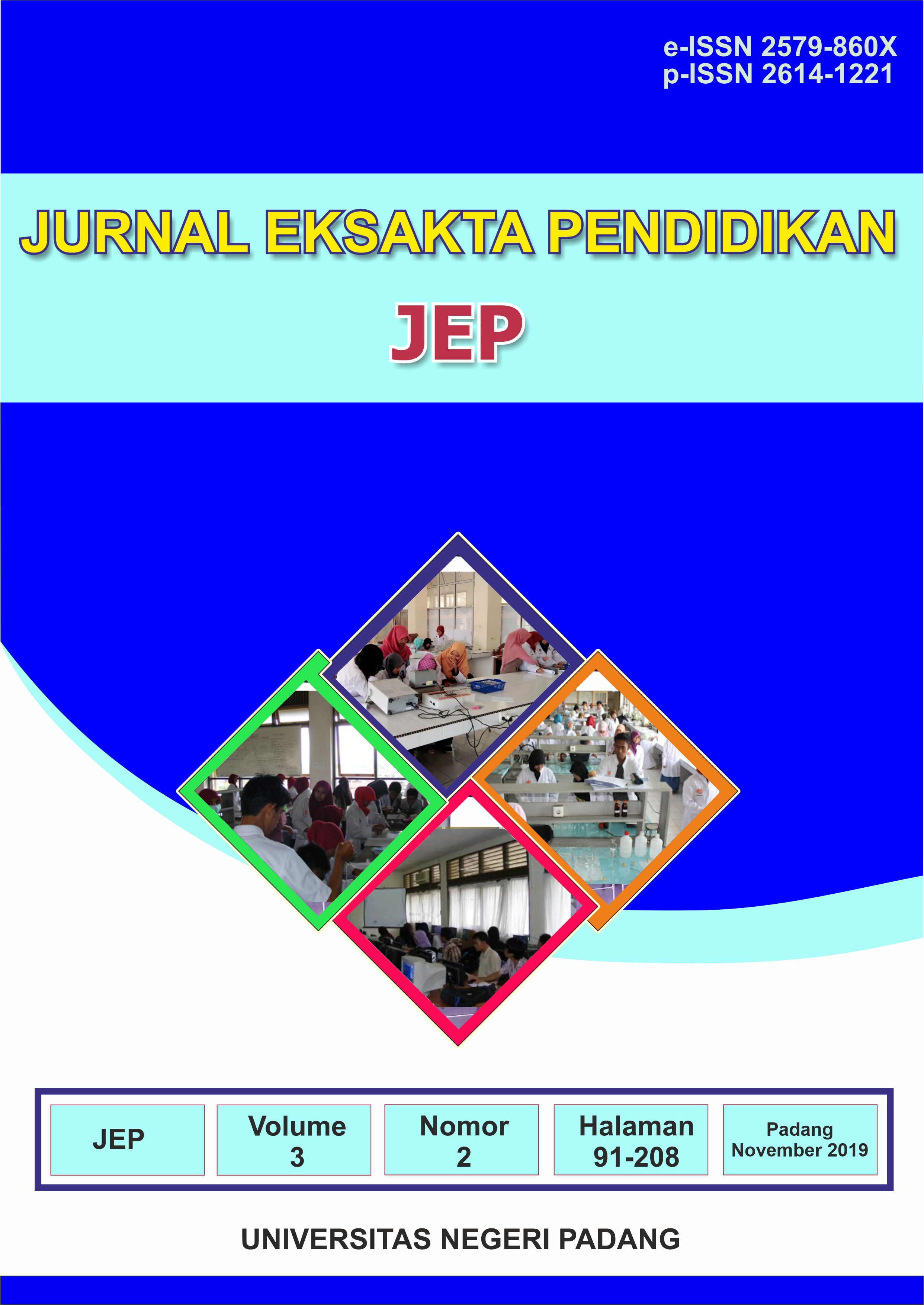 This work is licensed under a Creative Commons Attribution 4.0 International License.

This work is licensed under a Creative Commons Attribution 4.0 International License.