Studi Pendampingan Pengembangan Bahan Ajar Tematik Terintegrasi Literasi Baru dan Literasi Bencana Pada Guru IPA Kabupaten Agam
-
Asrizal Asrizal

Festiyed Festiyed

Universitas Negeri Padang
Abstract
Literacy is required in the 4.0 industrial revolution and education in Indonesia. However, the real condition indicated that the integration of literacy in science learning of the science teachers was still limited. The solution of this problem is assisting the partner in writing science thematic learning material by integrating new literacy and disaster literacy. The objective of assisting is to improve competency of science teachers in writing thematic learning material. The target of the assisting activity was the teachers in science MGMP in Agam district. Methods in assisting include presentation and discussion, group work, independent task, and task presentation. Instruments to collect the data consist of knowledge test and questionnaire. Data analysis techniques were descriptive statistical analysis and paired comparison test.  There are four results of the assistance, namely: 1). The average value of skills in integrating new literacy into thematic science worksheet is 70.5 and this average value can be classified into good category, 2). Teachers felt the benefits of assistance in aspects of learning material, thematic learning, integration of new literacy and disaster literacy in learning, and writing of thematic learning material, 3). The response of student from to the use of thematic science worksheet by integrating new literacy can be entered into very good category with an average value of 86.7, and 4). The implementation of assisting on the writing of thematic science learning material is effective to improve the new literacy and disaster literacy of science teachers.
Downloads
Download data is not yet available.
References
Ain, N. 2017. Holistic Thematic Learning in the Elementary School: Is It Thematic and Holistic ?. Advances in Social Science, Education and Humanities Research, Vol. 158, 919-928.

Ain, N., Rahutami, R. (2018). Theme Network in Thematic Learning in Elementary School. 4th International Seminar of Mathematics, Science and Computer Science Education, Conf. Series: Journal of Physics: Conf. Series 1013 (2018) 012065, 1-4.

Amini, R. 2017. The Development of Integrated Learning Based Students' Book to Improve Elementary School Students' Competence. Unnes Science Education Journal, 6 (2), 1586-1592.

Asrizal. 2015. Studi Pendahuluan Tentang Permasalahan Kesiapan Guru Untuk Mengimplementasikan Pembelajaran IPA Terpadu Pada Siswa SMP. Jurnal Eksakta, Vol 2 Tahun XVI

Assahary, S., Barlian, E., Nurdin, S., & Zulmuqim. 2017. The Development of Thematic Learning Model to Improve Students' Character in an Integrated Learning of Religion Education and Environment Towards Students in Adiwi yata School. International Journal of Multi cultural and Multireligious Understan ding, 4 (6), 1-15.

Bamalli, H.S. 2013. Competencies and Strategies for the Teaching of 21st Centu ry Learners in Vocational Home Econo mics Education. Journal of Educational and Social Research, 3 (9) : 105-108.

Brown, L.M., & Haun, J. 2014. Literacy and Disaster for Seniors. Springer, New York, 249-290.

Chen, H.L.S., & Huang H.Y. 2017. Advancing 21 st Century Competencies in Taiwan. National Taiwan Normal University: 1-21

Ibda, H. 2018. Penguatan Literasi Baru pada Guru Madrasah Ibtidaiyah Dalam Menja wab Tantangan Era Revolusi Industri 4.0. Journal of Research and Thought of Islamic Education, 1 (1), 1-21.

Kambali, I. 2017. Manajemen Penanggulangan Bencana. Andi Yogyakarta

Min, K.C., Rashid, A.M., & Nazri, M.I. 2012. Teachers' Understanding and Practice towards Thematic Approach in Teaching Integrated Living Skills (ILS) in Malaysia. International Journal of Humanities and Social Science. 2 (23). 273-281.

Mukhtaf., & Mufarrih, Z. 2017. Disaster Literacy in Communication Perspective. Universitas Muhammadiyah Yogyakarta.

Murniati, dan Yusup. 2015. Pengembangan Bahan Ajar Mata Kuliah Laboratorium Fisika Sekolah Berdasarkan Kompetensi. Jurnal Inovasi dan Pembelajaran Fisika, Volume 2, Nomor 2

Nurjanah. 2013. Manajemen Bencana. Alfabeta Bandung

Olayinka, Abdu-Raheem Bilqees. 2016. Effects of Instructional Materials on Secondary Schools Students' Academic Achieve ment in Social Studies in Ekiti State, Nigeria. World Journal of Education, Vol. 6, No. 1

Pantiwati, Y., Hudha, A.M., & Tuti, K. 2014. Triple Approach Instruction to Improve Learning Process and Outcome of Integrated Science Subject. Journal of Education and Practice, 5 (38), 115-124.

Pursitasari, I.D., Nuryanti, S., & Rede, A. 2015. Promoting of Thematic-Based Integrated Science Learning on the Junior High School. Journal of Education and Practice, 6 (20), 97-101.

Putri, N.M.S.A., Dantes, N., & Tika, N. 2015. Pengaruh Implementasi Pembelajaran Tematik Berbasis Lingkungan Terhadap Hasil Belajar IPA Ditinjau dari Sikap Ilmiah Siswa Kelas IV SD Gugus 1 Keca matan Kuta. E-Journal Program Pasca sar jana Universitas Pendidikan Ganesha Prog ram Studi Pendidikan Dasar, Vol. 5, 1-10.

Rahmania, Fitriani, A., and Kaniawati, I. 2017. Role of Integrated Sciences Teaching Materials on Pressure Topic to Improve Student's Critical Thinking Skills in Junior. Asian Journal of Education and e-Learning, 05 (02), 82-85.

Sampurno, P.J., Sari, Y.A., & Wijaya, A.D. 2015. Integrating STEM (Science, Techno logy, Engineering, Mathematics) and Disaster (STEM-D) Education for Buil ding Students' Disaster Literacy. Interna tional Journal of Learning and Teaching, 1 (1), 73-76.

Sukerti, Ni N., Marheini, Suarni, Ni.K. 2014. Pengaruh Pembelajaran Tematik Terpadu Melalui Pendekatan Saintifik Terhadap Minat Belajar dan Hasil Belajar Siswa Kelas IV SD Negeri 2 Tibubeneng Kuta Utara. Pendasi: Jurnal Pendidikan Dasar Indonesia, 4 (1), 1-9.

Sukmawati, Fatma. 2015. Pengembangan Bahan Ajar Biologi Berbasis Contextual Teaching and Learning untuk Mengefektifkan Pembe lajaran Bagi Siswa SMA. Fenomena, Volu me 7, No. 1

Sunarno, W., Sukarmin., Supurwoko., & Wikara, B. 2016. Development of Integrated Science Module be based on Scientific Approach in the Connected Integration to Improve of The Students Critical Thinking Skill. Proceeding The 2nd International Conference on Teacher Training and Education, Sebelas Maret University , 2 (1): 186-193.

Sunhaji. 2016. The Implementation of Integrated Learning in the Islamic Religion Educa tion as to Grow the Religiosity and Faith of Learners. International Journal of Humanities and Social Science, 6 (11): 279-289.

Yahya, M. 2018. Era Industri 4.0: Tantangan dan Peluang Perkembangan Pendidikan Kejuruan Indonesia. Universitas Negeri Makasar, 1-25.

Wardana, M.A.K. 2018. Pengaruh Model Pembelajaran Kooperatif Berbasis Multi media Interaktif Terhadap Literasi Media dan Hasil Belajar. Seminar Nasional Riset Inovatif, 97-102.

Wiyanto, Hartono, & Nugroho, S.E. 2017. Prepa ring Prospective Physics Teachers to Teach Integrated Science in Junior High School. IOP Conf. Series: Journal of Physics: Conf. Series 983 012053, 1-5.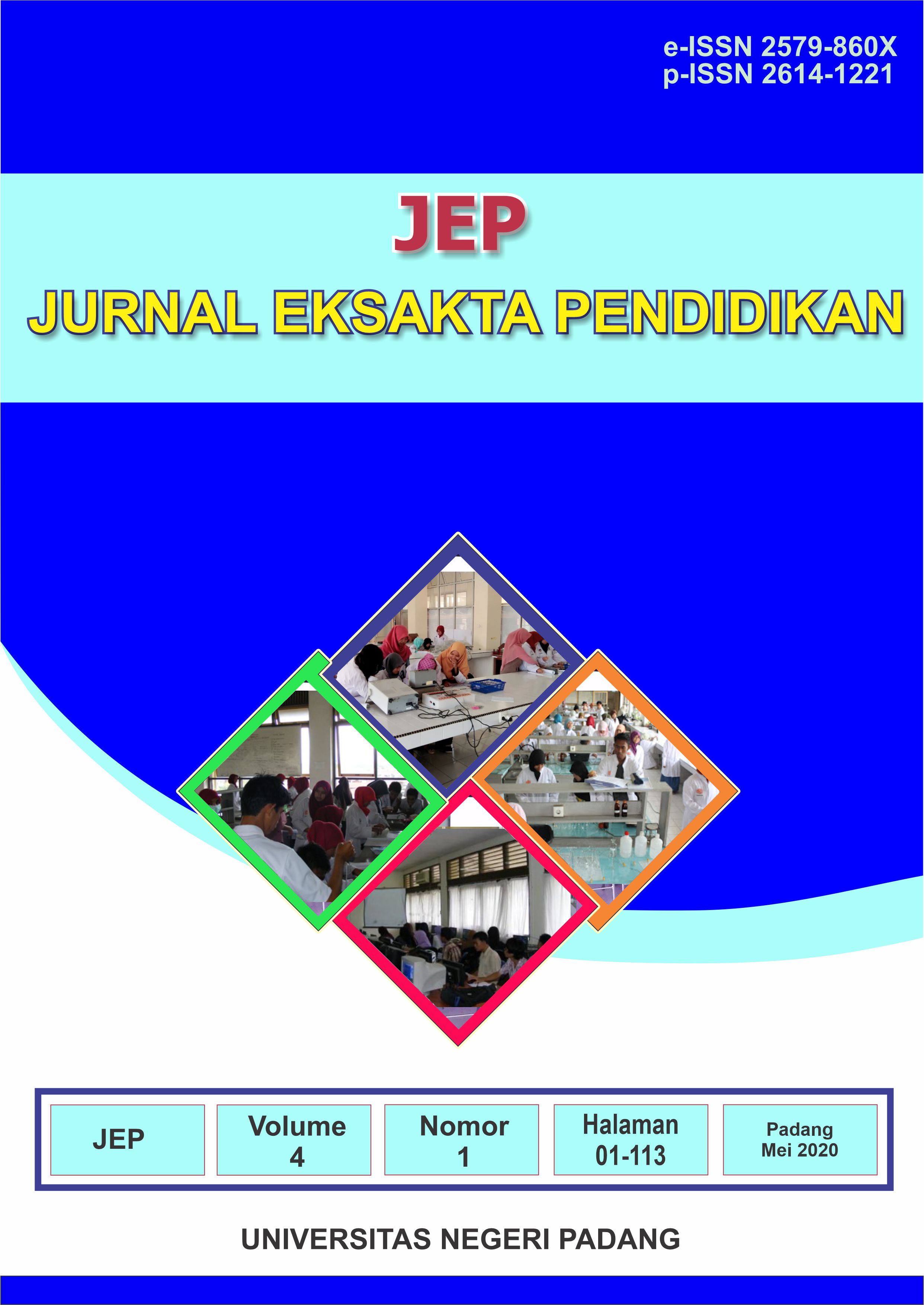 This work is licensed under a Creative Commons Attribution 4.0 International License.

This work is licensed under a Creative Commons Attribution 4.0 International License.